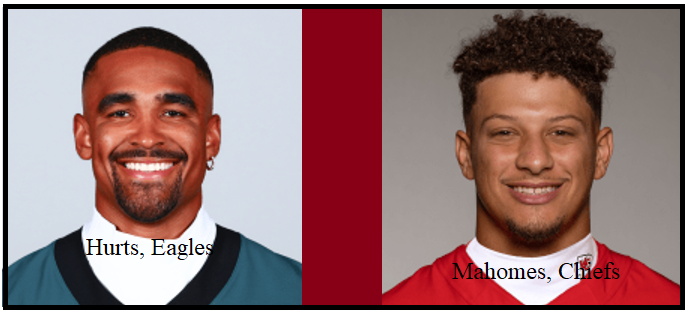 MINDGLIMPSE 2023
Overview
In the NFL Monday Night Game this week, the Eagles are the visiting team playing the Chiefs at home.
Micro-expression analysis indicates the Chiefs will win this game by 3 points.
Vegas is giving the Eagles 2 ½ points.
Bet the Chiefs will win outright and with the spot.
Micro-expression analysis finds this game's total predicted points to be 67.
Vegas lines have the over-under between 45 and 50 points.
Bet the over!
Pay close attention to the graphic breakdown highlighting the micro-expression analysis assessments of the Eagles and Chiefs and corresponding starting quarterbacks.
Micro-Expression Analysis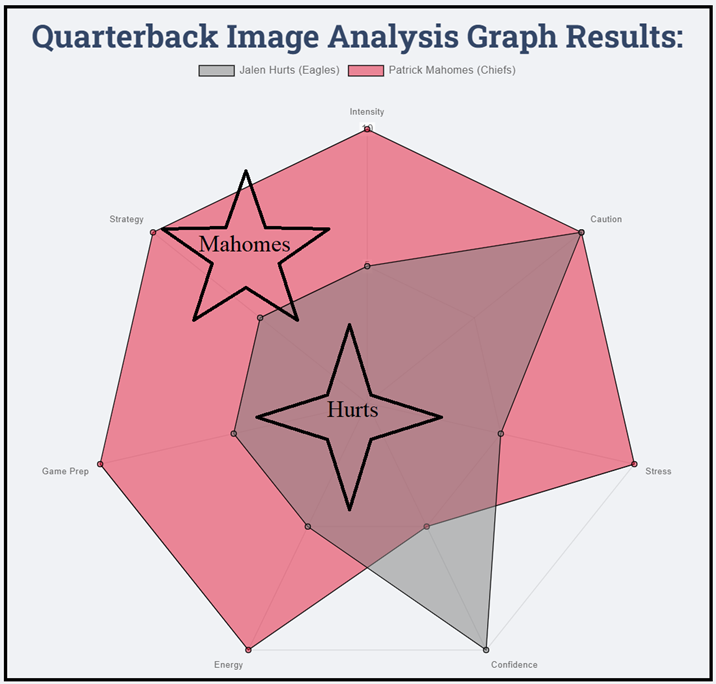 Hurts, the Eagles QB, is confident and will rely on physical attributes, whereas Mahomes, the Chiefs QB, will use strategy and game preparation to guide him in this game.
As always, you may wish to give more weight to the QB typology profiles; it is your choice.
Enjoy the game, and don't forget to tell your friends about mindglimpse.com.
Podcast: PHILADELPHIA EAGLES VS. KANSAS CITY CHIEFS
Audio File.
To see all upcoming games, go to: Https://Mindglimpse.Com/Games/NFL-Upcoming
If you wish to suggest a game to highlight in the future or have a comment, email us at [email protected]